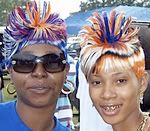 This post is dedicated to our best friend and worst enemy-WEAVE.
Some women like weave, and wear it to achieve the style they were going for, others can't be seen without it, and others should have never paid anybody to do them like that. The two pics up top is what I like to call "a bad weave move"
but I will pay homage to the hot weaves-
This is the only woman in the game I have seen with her weave ON POINT at all times...and that lacefront down-your-back nonsense doesn't count. Disagree? So what, it's my blog.
I like weave and I have worn it a few times, simply to fill out a 'do , or create a look without getting a haircut. But it has damaged my hair. Some of my cousins feel like they are NAKED without weave and will not go anywhere without it except to their local beauty supply store.
I think weave is cool as long as it is done properly, and if you take it out without messing up your real hair. WHY doesn't anyone want to take care of their real hair anymore?
thoughts?